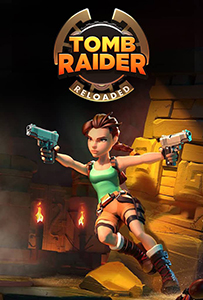 Release Dates: February 14, 2023
Platforms: Android, iOS, Netflix
Game Info: This fast-paced, nostalgia-packed mobile game officially released on Lara Croft's birthday in 2023, following a soft launch in selected markets. Developed by Emerald City Games and published by CDE Entertainment, Tomb Raider Reloaded has a cartoon esthetic with top-down, roguelike gameplay.
Reloaded is divided into various areas based on locations in the original 1996 Tomb Raider, such as the City of Vilcabamba, The Lost Valley, Midas' Palace, etc. Each area contains 20-50 short, procedurally generated stages. Lara enters each map at the bottom of the screen and must navigate to the exit at the top, eliminating swarms of enemies, dodging traps, and solving puzzles as she goes. Swiping moves Lara on screen, and whenever she's stationary, she'll fire on the nearest enemy. Completing each stage earns rewards which can then be used to upgrade Lara's abilities and purchase supplies before moving onto the next location. Daily and weekly challenges, collectible relics, and upgradeable outfits and weapons, should keep players coming back for more.
The game is chock full of nods to past games, including an original orchestral soundtrack inspired by the classics; appearances by beloved NPCs like Anaya Imanu, Winston Smith, Kurtis Trent, and Werner von Croy; bosses like the iconic T. rex; and narration by Keeley Hawes, who voiced Lara in the Legend era. The developers have also promised selectable voice options by classic Lara voice actors Shelley Blond, Judith Gibbins, and Jonell Elliott in a future update.
Reloaded is free to play and thus includes advertising and plenty of opportunities to spend real money on in-game perks and upgrades. As far as I know, the Netflix version is identical to the App/Play Store versions but without advertising or in-app purchases. So no annoying ads but also no opportunity to buy upgrades beyond what you can unlock in the game. If that sounds like a plus—and it does to me—go for the Netflix version. You'll need to log in with your Netflix credentials to play.
UPDATE (March 2023): In the last several weeks, there have been numerous reports of players losing progress after game crashes. Hopefully the devs are working on this and will reimburse people who've spent money in-game only to have all their progress erased. Players who've lost progress/money can request a refund through the App Store or Play Store, or contact trr-support@cdeentertainment.com to report issues.