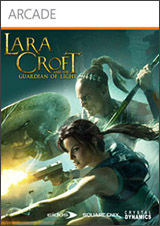 Initial Release: August 2010
Metacritic Score: 73-85 (details)
ESRB/PEGI Rating: Teen/12
Platforms: Windows PC, Xbox 360, Xbox One (via backward compatibility), PlayStation 3, iPhone, iPod Touch, iPad, BlackBerry 10, and BlackBerry PlayBook. (The Core Online browser-based version has been discontinued).
Game Info: Lara Croft and the Guardian of Light is quite different from the main Tomb Raider series. It's not every player's cup of tea, but I can say without hesitation that it's one of the best games I've played in a long time. It's not Tomb Raider, nor does it claim to be. There's no third-person camera and very little solitary exploration, but it does have some similar features: well-designed levels; challenging puzzles; a perfect balance between puzzle solving, platforming and combat; a few tough bosses; lots of items to collect and challenges that encourage replay...and of course Lara.
It's pretty light in the story department, but no more so than any of the classic Tomb Raiders. Basically it's another powerful-item-about-to-fall-into-the-wrong-hands-until-Lara-steps-in kind of thing. This time it's an ancient Aztec artifact, the Mirror of Smoke, and the villain is a Mesoamerican demon called Xolotl. The fun is in the gameplay, though.
The single-player campaign is great, but co-op mode is where this game really shines. One player controls Lara, the other Totec, Xolotl's nemesis and the titular "Guardian of Light." Long-time Lara fans who've dreamed of playing with a friend will have a blast exploring, fighting and helping each other navigate fiendish traps to snag that elusive artifact or relic. But don't take my word for it. Try the demo and see for yourself.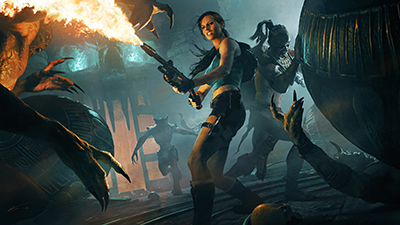 FEATURES:
Digital download format only.
Downloadable expansion levels and character packs. (see below)
Sprawling environments with minimal load times.
Cost: about $15/£10/1200 MS points. (Free, ad-supported version available.)
Length of gameplay: About 6 hours (not including DLC).
Replay value: High.
Single- and two-player cooperative modes either online or on the same console.*
Play as Lara in single-player mode or Lara and Totec, her Mayan warrior comrade, in co-op.
Isometric perspective (à la Diablo or Dungeon Siege).
A full arsenal of weapons, from Lara's dual pistols and Totec's spear to shotguns, rifles, flamethrowers, grenade launchers and more.
Lara's grappling hook and Totec's shield aid in exploration and puzzle solving.
Collectible weapons, artifacts, relics and other upgrades increase your characters' power as you progress.
Hordes of undead enemies, plus bosses, including the obligatory ancient evil overlord.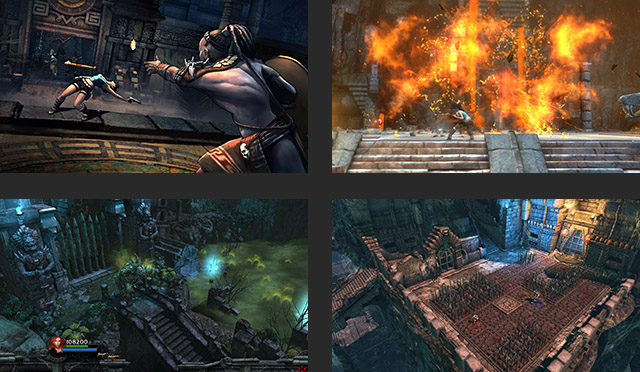 DEMOS & DOWNLOADABLE CONTENT:
A demo version of the game is available for Windows PC via Steam, Xbox 360 via the Xbox LIVE Marketplace, and PS3 via the PlayStation Network. There is no demo for the iOS or Blackberry versions, but there are download links above.
There are five downloadable content (DLC) packs, including three challenge packs and two character packs. Each challenge pack has four short levels, some packed with fiendish traps, others swarming with enemies. Each can be played solo or co-op and requires players to beat either a time challenge or score challenge to win. Character packs let you play through the entire game as characters other than Lara Croft and Totec.
Challenge and character packs cost about $3.50/£2.25/400 MS points each.
Challenge Pack 1: All The Trappings
Challenge Pack 2: Things That Go Boom
(not available for Xbox 360)
Challenge Pack 3: A Hazardous Reunion
Kane and Lynch Character Pack
Raziel and Kain Character Pack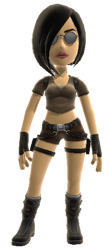 GUARDIAN OF LIGHT XBOX LIVE THEME & AVATAR ITEMS
Beating the Xbox 360 game unlocks special avatar awards. A Guardian of Light "Lava Tomb" premium theme and various avatar items are also available through the Xbox LIVE Marketplace. There are Lara outfits for female avatars, Totec and Shaman outfits for the guys, plus T-shirts, hoodies and accessories. Look for avatar goodies under Lara Croft: GoL in the Game Styles section of the Avatar Marketplace or xbox.com.
Here we have the lovely Love2Raid from the Eidos forums modeling the Lara Legend Costume.
Lara Croft and the Guardian of Light Single-Player Walkthrough
Level 1: Temple of Light
Level 2: Temple Grounds
Level 3: Spider Tomb
Level 4: The Summoning
Level 5: Forgotten Gate
Level 6: Toxic Swamp
Level 7: Flooded Passage

Level 8: The Jaws of Death
Level 9: Twisting Bridge
Level 10: Fiery Depths
Level 11: Belly of the Beast
Level 12: Stronghold Passage
Level 13: The Mirror's Wake
Level 14: Xolotl's Stronghold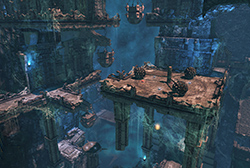 NOTE: The iOS version does not include levels 10-13.
Challenge Pack 1: All The Trappings (coming eventually)
Challenge Pack 2: Things That Go Boom (coming eventually)
Challenge Pack 3: A Hazardous Reunion (coming eventually)
Lara Croft and the Guardian of Light Co-Op Walkthrough
Challenge Pack 1: All The Trappings (coming soon)
Challenge Pack 2: Things That Go Boom (coming soon)
Challenge Pack 3: A Hazardous Reunion (coming soon)