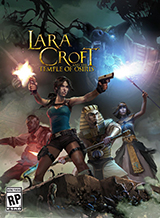 Release date: December 9, 2014
Metacritic Score: 72-75 (details)
ESRB/PEGI Rating: Teen/12+
Platforms: Xbox One, PlayStation 4, Windows PC, Stadia.
Game Info: Lara Croft and the Temple of Osiris is the sequel to the Lara Croft and the Guardian of Light, one of the best-selling digital titles of all time. It features a single-player campaign as well as online and offline co-op with dynamically generated levels for 2, 3, or 4 players at a time.
This adventure takes Lara to the Egyptian desert, where the ruins of an ancient temple dedicated to the evil god Set has recently been discovered. Lara hopes to locate the legendary Staff of Osiris hidden within. She arrives on the site only to find that rival archaeologist Carter Bell has beaten her to the temple, taken the staff, and unwittingly released two trapped gods: Horus and Isis. The four must then join forces to resurrect Osiris, god of death and the afterlife, the only deity powerful enough to defeat Set and prevent him from raising an army of the dead and enslaving mankind.
Play solo or with friends in the first ever 4-player co-op multiplayer experience featuring Lara Croft. Players control Lara, Carter, Isis, and Horus in online, offline, or mixed local/online co-op play. In order to succeed, they must work together to explore the temple, defeat hordes of enemies from the Egyptian underworld, solve devious puzzles, and avoid deadly traps, while competing for treasure, powerful weapons and artifacts, and ultimate bragging rights.
Fans of the Crystal Dynamics games from Legend through Guardian of Light will be excited to hear Keeley Hawes reprising her role as Lara in this game.
Follow this link for recent blog posts about Lara Croft and the Temple of Osiris. There's also an ongoing Temple of Osiris developer Q&A on my blog, which includes details about the game, voice talent, localization info, and more.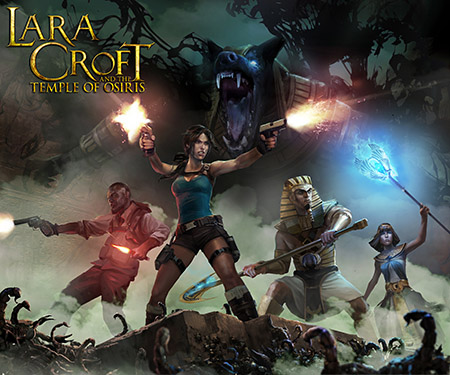 Lara Croft and the Temple of Osiris Key Art - Click to Enlarge
Lara Croft and the Temple of Osiris PC System Requirements
MINIMUM:
OS: Windows Vista, Windows 7, Windows 8
Processor: 2.0 GHz high end Dual Core CPU
Memory: 4 GB RAM
Graphics: AMD Radeon HD 6000 series or better / NVidia GeForce 500 series or better
DirectX: Version 11
RECOMMENDED:
OS: Windows Vista, Windows 7, Windows 8
Processor: Quad core CPU: AMD Phenom II X4 955 or Intel Core i5-750
Memory: 8 GB RAM
Graphics: AMD Radeon HD R7/ NVidia GTX 650
DirectX: Version 11
Can you run it? Compare your system to the required and recommended specs for LCTOO at systemrequirementslab.com.
Lara Croft and the Temple of Osiris Gold Edition
Square Enix has announced details about a special "Gold Edition." which comes with a Lara figurine, art book, map poster, and a Season Pass good for all future DLC. So far only PC and PS4 versions have been confirmed. We hope an Xbox One version will be announced soon.
Check out this blog post fro details about the Gold Edition and other pre-order bonuses.
Lara Croft and the Temple of Osiris Walkthrough/Strategy Guide
This walkthrough covers the single-player game as well as all co-op configurations from two to four players.