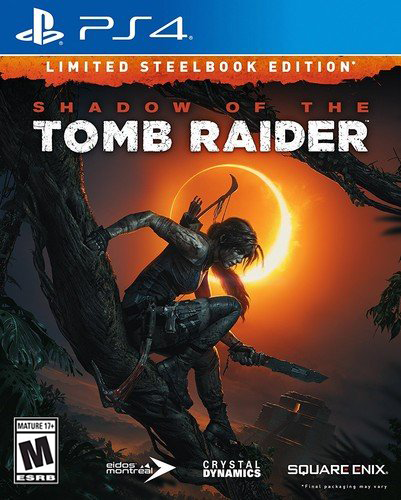 Release Dates and Platforms: Initial release September 14, 2018 on Windows PC digital download (requires Steam account), PlayStation4, PS4 Pro, Xbox One, Xbox One X. Definitive Edition November 5, 2019, for the above systems, Macintosh, and Linux. Stadia (2019).
ESRB/PEGI: Mature/18+
Metacritic Score: 77 (details)
Developers: Eidos-Montréal, Crystal Dynamics
Publisher: Square Enix
Official Game Info: Experience Lara Croft's defining moment as she becomes the Tomb Raider. In Shadow of the Tomb Raider, Lara must master a deadly jungle, overcome terrifying tombs, and persevere through her darkest hour. As she races to save the world from an apocalypse she herself set in motion, Lara will ultimately be forged into the Tomb Raider she is destined to be.
Survive and Thrive In the Deadliest Place on Earth: Master an unforgiving jungle setting in order to survive. Explore underwater environments filled with crevasses and deep tunnel systems.
Become One With the Jungle: Outgunned and outnumbered, Lara must use the environment to her advantage. Strike suddenly and disappear like a jaguar, use mud as camouflage, and instill fear in enemies to sow chaos.
Discover Dark and Brutal Tombs: Tombs are more dangerous than ever before, requiring advanced traversal techniques to reach and all of the player's skill and wits to solve.
Uncover Living History: Discover a hidden city and explore the biggest hub space ever found in a Tomb Raider game.
Launch Editions: Various special editions include story/tomb DLC, outfits, skills, weapons, and real-life collectibles. This blog post includes a breakdown of the different editions. A free demo version is also available on Steam, PS4, and Xbox One.
Season Pass: The season pass introduces seven new adventures called "Paths," each of which includes a Challenge Tomb and story mission, plus a new weapon, outfit, and skill. Some also include a co-op mode. Season Pass owners also receive an exclusive weapon, outfit, and skill unrelated to the Path missions. One DLC pack, The Path Home, is only available by purchasing the Season Pass. The others can be purchased separately.
UPDATE: With the launch of the Definitive Edition (below), the Season Pass is no longer available. It has been replaced by the Definitive Edition Extra Content bundle.
Definitive Edition: This updated version was released in November 2019 for Windows PC, PS4, and Xbox One, as well as Macintosh and Linux. (Visit Feral Interactive for Mac and Linux system requirements.) The definitive edition includes the base game with some graphical upgrades, all previously released DLC, and a new oufit: Croft Fitness. This edition is primarily aimed at people who have not previously played Shadow of the Tomb Raider. Players who already own the game and Season Pass will receive the definitive edition upgrade free.
More information can be found below, including level names, screenshots and concept art, gameplay details, characters, and features.
Shadow of the Tomb Raider Walkthrough/Guide
If you've finished a level and are still missing a few collectibles, check the Quick Collectibles Guides and annotated level maps.
If you are experiencing a bug or technical issue, please visit the official Square Enix Forum to report your issue and check for solutions as they emerge.
MEXICO
PERU
ENGLAND: Area 3: Croft Manor (flashback/dream)
PERU
Area 6: The Hidden City (Lower Paititi)
Area 11: The Hidden City (Upper Paititi)
Area 12: Riverbed/Porvenir Oil Fields
CHALLENGE TOMBS & CRYPTS:
Walkthroughs for the 9 optional Challenge Tombs and 10 Crypts are included in the levels where they are located and also linked from the list below. Video walkthroughs for Score Attack and Time Attack runs, courtesy of the awesome Treeble, are also linked here. DLC tombs are below.
PERUVIAN JUNGLE:
KUWAQ YAKU:
HIDDEN CITY (Lower Paititi)
CENOTE:
HIDDEN CITY (Upper Paititi):
MISSION OF SAN JUAN:
HIDDEN CITY (Revisit):
DOWNLOADABLE CONTENT (DLC) PACKS:
In addition to various outfits/weapons, there will be 7 major DLC packs, released one each month beginning in November. Each will include a new Challenge Tomb, story mission, outfit, weapon, and skill. The first introduces co-op play. This video from Eidos-Montréal introduces some of the new co-op features. Here are walkthroughs for the ones that have been released so far:
BONUS SECTIONS:
Some of the following sections are still under construction. Live links will be added as soon as each one is finished. In the mean time, you can find lots of useful information in walkthrough, as well as the in-game Survival Guide. To access it, press Tab (PC), Touchpad (PS4), or View button (Xbox One), then select the Survival Guide (4th icon at top left, which looks like a little first-aid book). This guide is updated as you progress in the game.
GUIDE TO 100% COMPLETION - Includes tips and PDF checklist.
Also check out Christine's Steam Guides for Achievements and Trophies.
Controls and Gameplay Tips - A detailed introduction to the game mechanics including controls; experience points, base camps and fast travel; health and healing; weapons, hunting and combat; plus how to use the in-game map and inventory screens. (These are also covered in the early levels of the main walkthrough.)
Quick Guides to all Collectible Items, Side Missions & Challenges - These short guides will help you find any documents, relics, survival caches, treasure chests, murals, outfits/gear, explorer backpacks, archivist maps, monoliths/monolith riches, and challenge items you may have missed.
Merchants - Where to find each in-game seller and what goods, gear, and weapons they offer. (Separate page coming. This information is included in the walkthroughs for Kuwaq Yaku, Paititi, Mission of San Juan, and the Traveling Merchant Moraekah.)
Skills Guide
Weapons and Weapon Upgrades
Crafting and Equipment
Outfits/Skins
PC Save Files - Includes saves for all levels on medium ("Rite of Passage") difficulty.
Shadow of the Tomb Raider Media
This story trailer was shown during the E3 2018 Xbox Briefing on June 10. For more E3 videos, including developer interviews, plus combat and traversal gameplay demos, check out my blog and the official Tomb Raider YouTube channel.
The kick-ass song in the trailer is "Speak Louder" by TRILLS. Listen to the full track on YouTube, iTunes or Apple Music.
In addition to the screenshots and concept art below, the official Tomb Raider site has a downloadable fankit that includes logos, wallpapers, and social media banners/icons.


Shadow of the Tomb Raider Game Details
This section will be updated as new information becomes available. It includes minor spoilers about NPCs, Lara's gear and abilities, game mechanics and collectibles, etc., but never any major, story-related spoilers.
Shadow of the Tomb Raider takes place about one year after the events in Rise of the Tomb Raider. Lara is 23 years old at this time.
Without giving anything away that has not already been mentioned in the official marketing, the story will involve Lara inadvertently setting off an apocalypse and her subsequent struggle to put things right.
Camilla Luddington and Earl Baylon reprise their roles as Lara Croft and Jonah Maiava.
Earlier rumors about Sam Nishimura and Joslin Reyes possibly appearing in Shadow have been quashed. The developers have since said that they will not return.
The main antagonist, Dr. Dominguez, is played by Carlos Leal. According to Lead Writer Jill Murray, Dominguez is the head of Trinity, the shadowy organization that figured in the last two games. His motivations are complex and often just as compelling as Lara's.
The adventure begins in Cozumel, Mexico, then shifts to Peru. As in, the previous two games, there will be a variety of settings and terrain within the Peru location.
Lara does not begin the game entirely without skills or resources. However, since we now play as a more proficient Lara, the level of challenge in the environments has been ramped up to keep things interesting.
The game will incorporate separate difficulty sliders for puzzles (e.g., verbal hints on/off), navigation (e.g., white ledges, beacons, etc., on/off), and combat (auto-aim, healing, enemy toughness,etc.). (HUZZAH!)
Some familiar weapons and gear return, including the bow, pistol, and rifle; improvised explosives like Molotovs; and objects that explode when shot. Lara also has a knife and now dual climbing axes.
An "immersion mode" setting will allow players to hear some NPC conversations in their native language, whether Spanish or Yucatec Maya, although the main storyline will unfold in the player's chosen language.
Localization will include full audio, user interface, and subtitles in Arabic, Brazilian Portuguese, Chinese (simplified), English, French, German, Italian, Polish, Russian, and Spanish, with subtitles and user interface also available in Korean and Traditional Chinese.
Base camps, where Lara can change her loadout and buy skills, will return. Some of these will be "social camps," where she can also interact with local NPCs to find out more about an area, as well as Lara's thoughts and feelings
Most base camps will not be lit when you discover them, and you will need light them. This will not require resources on the medium difficulty setting, though it will on harder settings. Once you've visited a camp, the fire will remain lit, so you can see the path you have taken while exploring an area.
The gear guide describing Lara's default outfit shows a makeshift knife that Lara "crafted from airplane wreckage." Video released during E3 2018 show the possible source of that wreckage. (Follow the link for details, or don't if you're trying to avoid spoilers.)
The gear guide also shows two semi-automatic pistols, but the developers have said that dual pistols will not be a feature. Another illustration shows a pistol with an improvised flare gun attachment.
"Fear arrows," a new special arrow type reminiscent of the hallucinogenic arrows in Rise of the Tomb Raider's Baba Yaga DLC, will cause enemies to freak out and turn on each other. Special ammo for the other weapons has been mentioned but no specifics mentioned.
Lara again uses her climbing axe as a tool for prying open doors, widening cracks, and now also for breaking windows.
Crafting returns but details are still sparse. Players who've had hands-on time with the game have mentioned finding such items as herbs, cloth, hide, hardwood, ready-made medikits, and stimulants.
Players will also be able to collect gold and jade. Gold can be used for trade, including buying and upgrading outfits and possibly gear/weapons. It's still not clear what jade will be used for.
Examining murals improves Lara's knowledge of the culture, rather than her language skills.
As in Rise, finding explorer satchels and maps reveal the location of other collectibles.
There are also challenges similar to the ones in the last two games (shoot down X number of items, etc.).
Lara can now use mud as camouflage, climb trees and vine-covered walls to avoid or get the drop on enemies, and sow fear and chaos among her foes. There's a strong emphasis on stealth.
In addition to using her dual axes for climbing, Lara now has a rope she can use to grapple, rappel/abseil, swing across gaps, and wall run like she did in Anniversary and Underworld. She can also wall scramble to get up and over high walls and climb beneath rock overhangs.
The swimming mechanics from Rise are improved and expanded. Lara no longer needs to stay close to the surface, but at least at the beginning of the game, she does not have a rebreather or scuba gear. In Mexico, she explores a network of flooded caverns and passages using air pockets to breathe.
There is at least one water slide sequence with deadly hazards similar to the ones in Tomb Raider (2013).
New enemy types include jaguars, which will act as guardians of the jungle's secrets, similar to the bears in Rise. Eels and piranhas feature in some underwater areas.
Players can still expect the kinds of physics-based puzzles found in the previous games, but these are no longer entirely relegated to optional challenge tombs. They are also more elaborate—some involving tricky platforming and deadly traps that must be avoided or disarmed.
Crypts also return. As in Rise, they will be simpler (and less deadly) than challenge tombs, and we don't yet know what they will contain.
Quick time events are still present but more integrated with gameplay, so players will hopefully see fewer immersion-breaking button prompts.
Lara's character model is very similar to the one in Rise, but some tweaks have been made to both her face and body. She's more muscular, and according to players who've experienced the demo, her facial expressions and animations are much improved.
Shadow is built using the Foundation engine (the same one as Rise of the Tomb Raider) with many enhancements added by the Eidos-Montréal team.
Lara will have a variety of outfits, and at least some will have interchangeable tops and bottoms which confer specific perks. It's not clear yet what these are, how many will be unlockable/crafted versus buyable. Check the Shadow of the Tomb Raider Outfits page for details as they emerge.
Croft Manor will be a part of the game, though it is not yet clear to what extent.
Co-op play will be introduced in the first downloadable content pack, which is scheduled for October 2018. It is not yet known what this will involve. A total of seven DLC packs are planned, to be released each month between October 2018 and March 2019. In addition to a Challenge Tomb and story mission, each DLC pack will include an outfit, weapon, and skill.
PC System Requirements:
Minimum system requirements:
OS: Windows 7 64 bit
Processor: i3-3220 INTEL or AMD Equivalent
Memory: 8 GB RAM
Graphics: Nvidia GTX 660/GTX 1050 or AMD Radeon HD 7770
DirectX: Version 11
Storage: 40 GB available space
Recommended system requirements:
OS: Windows 10 64-bit
Processor: Intel Core i7 4770K, 3.40 Ghz or AMD Ryzen 5 1600, 3.20 Ghz
Memory: 16 GB RAM
Graphics: Nvidia GTX 1060 6GB or AMD Radeon RX 480, 8GB
DirectX: Version 12
Storage: 40 GB available space
All PC editions will require a Steam account to activate, but most of the game will be playable in offline mode.
Additional PC Resources:
System Requirements Lab - Can You RUN It?
Macintosh & Linux System Requirements: Visit Feral Interactive for details.