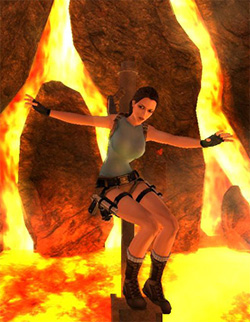 Stuck in a bad spot? Fear not! Download a Tomb Raider savegame file.
Unlike past Tomb Raider games, Anniversary stores a player's progress in two separate files: save files and profiles. Save files include Lara's position at the most recent checkpoint, as well as inventory, enemies killed, switches used, etc. Artifacts, Relics, time trials and unlockable content are stored in the player profile. Both file types are available here, and the installation instructions explain how to deal with them.
For the PC game error "Unable to load Profile! Your Progress will not be saved until a profile is selected," try this solution. Once you have fixed the bug, you can download saves and profiles using the links below to pick up the game where you left off.
IMPORTANT: These save files were made using the North American DVD version of the game. As far as I know, they are compatible with most other DVD versions and with the Direct2Drive and Steam downloads. They are not compatible with certain torrent versions of the game.
Click on the name of each level to download a collection of saves for it. You'll also find a few individual save files linked to particularly difficult sections in the walkthrough.
Croft Manor - no saves available (see note below)
Complete Anniversary Saves - All of the above in one big zip file.
Torrent Version Saves - The DVD version saves (above) may not be compatible with downloaded versions of the game. This link has saves for one of the torrent versions (all levels in one zip file).
Anniversary Profiles - A collection of TRAProfile files for each level of the game, with all artifacts and relics found up to that point. No time trials have been done. Info about TRAProfile files and how to use them is included on the instruction page.
Anniversary 100% Completed - A TRAProfile with the game finished, all artifacts and relics found, all time trials done and all cheat codes unlocked. Info about TRAProfile files and how to use them is included on the instruction page.
*CROFT MANOR: The game will autosave as you play in Croft Manor and keep track of any artifacts you've found there (although there are a few potential bugs here in the PC game, which are covered in the walkthrough); however, the only way to transfer progress in Croft Manor from one player to another is by transferring Profile files, not individual save files. The instruction page covers this as well.