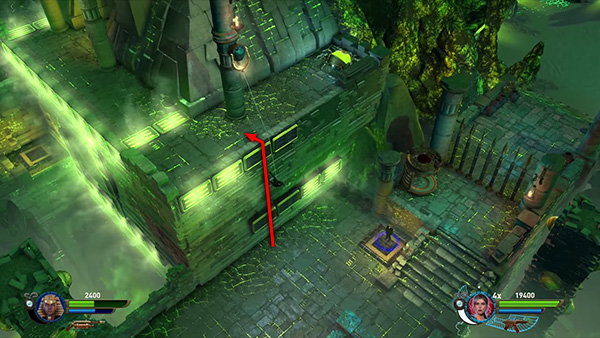 In the co-op game, instead of a switch, there is a pressure pad on the lower level. Have one player stand on it to deactivate some of the poison vents on the wall so the other can use the grapple ring to climb onto the ledge above.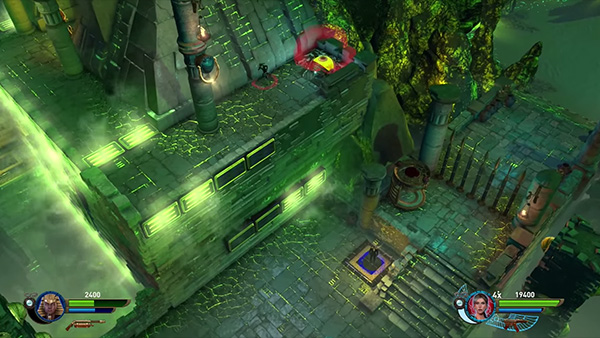 That player can then use a remote bomb to destroy the giant eyeball. This turns off the poison vents on the walkway but not the ones on the wall below.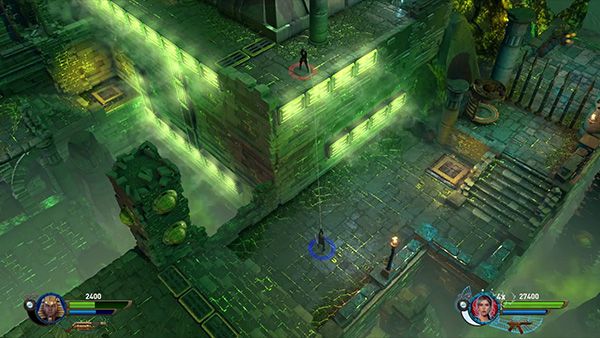 In the 2-player game, have the character holding the grapple move to the left end of the ledge and grapple the character down below.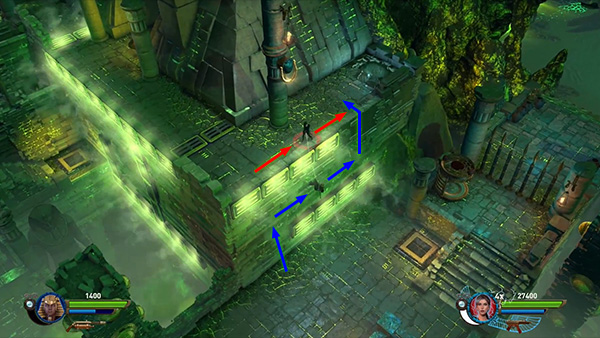 The poison vents will re-activate, but the character below can then climb the cable so he or she is hanging between the two rows of vents. Both characters should then move carefully to the right so the one hanging moves along the wall between the two rows of vents. When they reach the right end of the ledge, the character below can then climb up the rest of the way.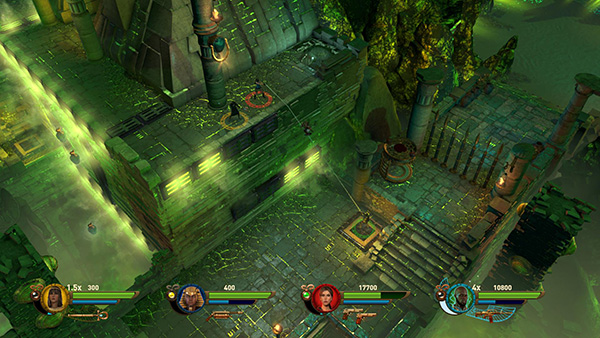 If you're playing with 3 or 4 people, have one character remain on the pressure pad while the others use the grapple cable to climb onto the ledge. Then, to get the last character up, use the method shown in the 2-player screenshots above.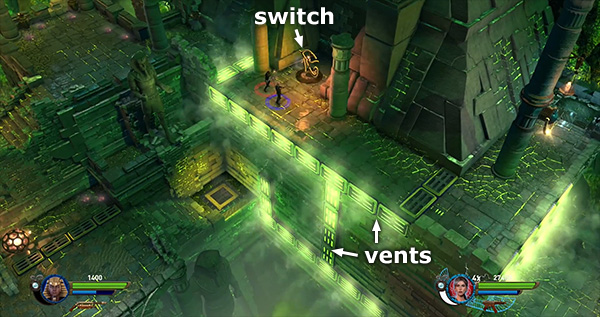 Go around the corner to find a second switch. Shoot it to toggle the poison vents down below so the one just below the edge of the walkway is off.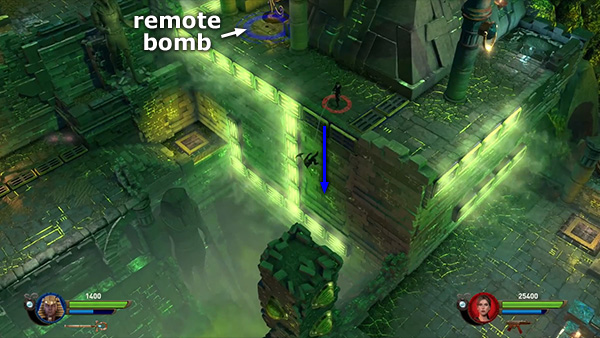 Plant a remote bomb near the switch. Then have one character grapple another so they can step off the ledge and hang below the vents you just turned off.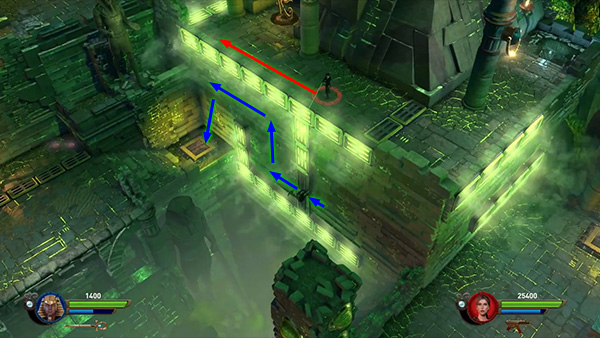 Then detonate the remote bomb to flip the switch. (If you're playing with 3 or 4 characters, you can have one of the others can shoot the switch instead.) This once again toggles the poison vents below. Now the character standing on the ledge can move carefully to the left, as the one hanging from the cable moves to the left, past the deactivated vent, up a little, and then farther to the left, until he or she can drop onto the square pressure pad.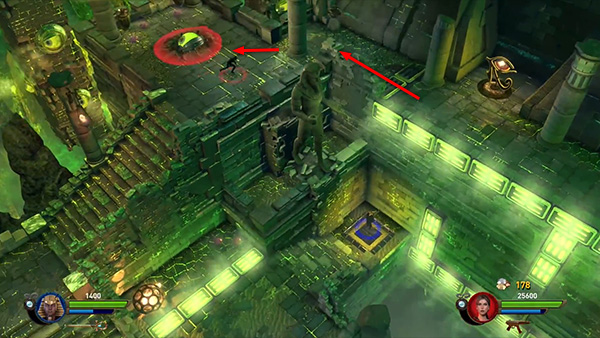 Stepping on the pad turns off one set of poison vents on the ledge above and also turns on the vents near the glowing sphere. Another giant eyeball appears on the ledge above. Destroy the eyeball with a remote bomb...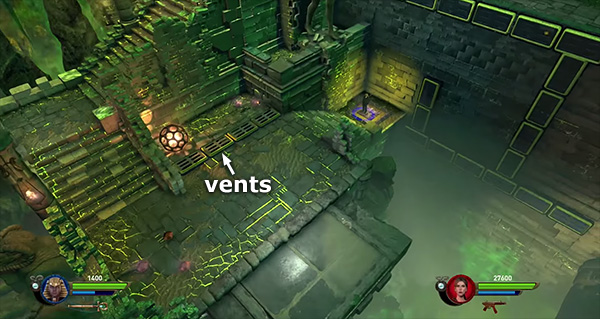 ...in order to turn off the poison vents near the glowing sphere and extend a bridge back to the starting area.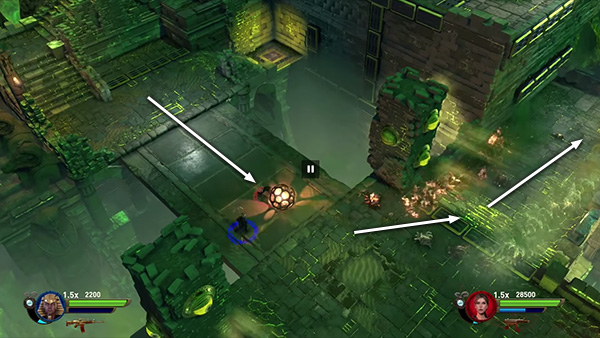 Go back downstairs and roll the ball across the bridge. When you reach the area where you found the flamethrower earlier, another swarm of scarabs attacks. Deal with them.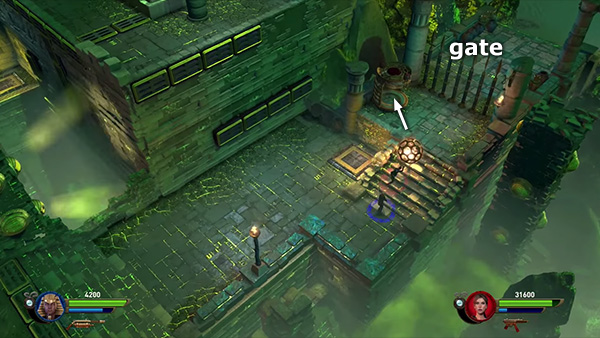 Then roll the ball past the pressure pad and into the round cage to open the gate next to it.